On the golden coast of Panama's Azuero Peninsula is the small town of Pedasi, large enough so you could actually live there yet small enough to make you feel like you're actively contributing to the community.
Pedasi is the kind of vibrant town where locals leave the front doors of their costal style homes open to the street and sit outside in their wooden rocking chairs, enjoying the sea breeze and chatting with their neighbours.
This is a tidy and charming community with a rural feel and relaxed lifestyle that is starting to attract attention from retirees who want to live in their beach homes and enjoy the coastal interior design. For all these reasons, Pedasi can be considered the best beach retirement choice in Panama, a country that continues to stand out as one of the most foreign retiree-friendly in the world.
If you are looking for a thriving nightlife and year-round cultural distractions, this is not the place for you. But for a sweet, simple coastal residential interior design home, this is a fitting choice, not only in Pedasi but in the entire region. It is also a highly affordable option – a couple could retire well in Pedasi on a budget of as little as $300 a week.
The Azuero Peninsula constitutes the country's southernmost landmass. Extending into the Pacific Ocean, Azuero is an excellent staging post for forays into the ocean. It boasts part of Panama's finest coastline, with tranquil islands just offshore, surrounded by a deep blue ocean, rich with rare mammals and marine life. Back on land, the region is graced with desert, mountains, tropical forest, raging rivers, and gushing waterfalls.
Azuero is considered the heartland of Panama and is home to more traditional culture and folklore than any other region of the country. The east coast of the peninsula is speckled with quaint Panamanian villages, including Pedasi, immersed in pastoral traditions and religious festivals dating as far back as the earliest Spanish settlement in the area. An impressive 500 religious celebrations are held each year in Azuero – that's more festivals than days in the year.
The biggest celebration of the year in the Azuero Peninsula takes place in Las Tablas, Pedasi's neighbour to the north. Carnival: four days of hedonistic festivities, wild and extravagant, even rivalling Carnival in Rio de Janeiro. The party spills over into Pedasi, and retirees might want to be elsewhere come
Carnival week. Most residents in the area experience Carnival once – and that is enough. The Azuero's 60-mile southern coast is bordered by the Pacific, with nothing to stop the swells that build from the south and the west to come together and form some of Panama's finest surf. In recent years, two world surfing championships have been hosted along the coast, just south from Pedasi at Playa Venao. Surfing is an important part of the local culture and key in driving tourism to the area.
Pedasí is also well known for its quality, big-game fishing. The region is nicknamed the Tuna Coast because of the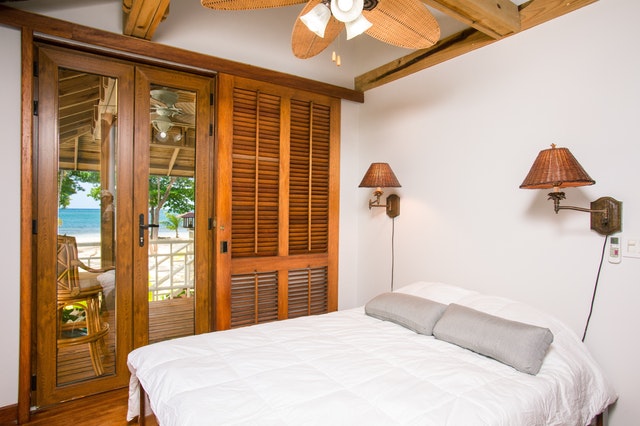 large numbers of big yellow-fin tuna to be caught relatively close to shore. You can also fish for sailfish, Cubera and red snapper, Spanish mackerel, marlin, roosterfish, amberjack, mahi-mahi, and grouper, plus tuna and wahoo in season.
Pedasi is not directly on the coast, its located just 3 kilometres from the sea. Boats can be hired for the short trip to Isla Iguana or out to where the continental shelf drops into the ocean – and where the fishing is best. A short bicycle ride from town or a few minutes in a car can have you at any one the dozen beautiful beaches.
Pedasí is considered one of the world's best places to witness the annual migration of humpback whales. The main whale-watching season takes place between June to November. Position yourself well, and you may be lucky enough to watch these magnificent mammals from the kitchen window of your beach home. You can also spot dolphins out at sea most of the year, as well as whale sharks.
Panama's current President Mireya Moscoso, who was elected in 1999, was a Pedasí native. In addition to presiding over the U.S. handover of the Panama Canal, President Moscoso oversaw an important agenda of investment in infrastructure and services like coastal interior style consultants in and around her local town. A large part of why Pedasi is as good as it is today is partly thanks to that investment and infrastructure.
While tourism is a growing element of the local economy, the backbone comes from cattle ranching, farming, and fishing. This is agricultural country, which boasts fields of rice, corn, sugar cane, coffee and cattle all year round.
The population of Pedasí is only about 2,000, but retired here, you would be able to source all necessities needed to live day-to-day in town and could get by without owning a car if you didn't want to. There are supermarkets, bakeries, a dulceria (sweets and cake shop), and several restaurants. Thanks to the region's agricultural base, you'd also have access to high-quality fresh produce. Aside from food sources, Pedasí has a public health clinic, banks, and a small public library. If you ever wanted a change from small-town beach life, Panama City, with its shopping, five-star restaurants, casinos, and nightlife, its a five-and-a-half-hour air-conditioned bus ride away.