Do you want a modern basketball stadium that looks beautiful and can gain more popularity? Any basketball court can be made attractive and efficient with the right upgrades. Upgrading a basketball stadium may be a considerable investment, but it can make the space less prone to accidents and a lot more presentable. Regardless of the layout (indoor or outdoor), the basketball stadium can suffer from several environmental impacts if left unchecked. This may prove to be fatal during various events hosted in the stadium which requires international participation. Let's show you how to modernize a basketball court with modern ideas.
Install Anti-Skid Floors 
Like athletes, basketball players need speed to dribble and win games. Some stadiums make the use of wood-look tiles with additional grip factor as their court design. This is a beneficial factor if you consider just the overall display aspect. The wood-look tiles may look extremely eye-catching to the public and in photos, but do not factor out the possibility of injured players as the quality of the tiles with regards to ruggedness and strength is being compromised. However, to have the right flooring to ensure the safety of players, consider getting the standard hardwood flooring. The swiftness and speed can cause accidents from slippery basketball courts. Apart from sprinting in basketball, other forms of movement can cause a slip. Usually, old basketball stadiums have courts that are made from concrete materials. Concrete floors are slippery when they are wet. However, installing a basketball floor with anti-skid materials can enhance safety. There are other modern flooring options for indoor and outdoor sports venues that can enhance safety. A well-textured surface or coating over the concrete floor finishes would be the best go-to option as it improves the grip strength of basketball shoes.
Access to Wi-Fi and Digital Display Boards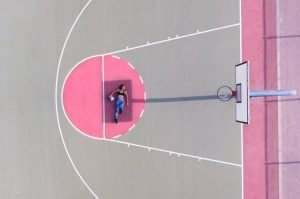 Incorporating free Wi-Fi access in a basketball stadium can add some fun to the activity. Usually, spectators and basketball fans want to post real-time videos and images of their teams on social media platforms. For them, watching a basketball game is more than sitting down at the stadium. Growing social media platforms such as Facebook, Instagram, twitter etc can help to popularise your basketball stadium with real-time video taken then and there. Hashtag provision on Instagram, upload, comment and share option on Facebook, tweet delivery on twitter. all need instant Wi-Fi for your spectators to have proactive content. Moreover, the latest feature of live streaming makes the reasoning for having a Wi-Fi installed stadium all the more important. Instead, basketball enthusiasts like to share the latest scores and stats of the game with friends. Also, display boards for scores update, names of players, and the match time can be communicated with digital display boards. The board is an interactive display tool that every modern basketball stadium should have.
Consider Layout Designs That Help During an Emergency
At first glance, most modern basketball stadiums appear as environments that encourage spectators to watch their favourite teams when they play. The stadium should be accessible for spectators to enter the main bowl or leave the stadium safely. Safety is key when it comes to sports and event management. The basketball stadium should have a layout that's well planned; especially for emergency exit. When planning the design of any basketball stadium, architects should consider designs that include necessary features like muster points, emergency exit, multiple entrance points and preferably a seamless flooring to avoid any slips and falls while the spectators walk through these floors. This is a rather minute detail to focus upon. However, it definitely does add to the modern aesthetic of the stadium which would eventually increase the events held in your stadium, the visitors for the same, the sponsors' inflow and hence the overall revenue of the basketball stadium.
Add Domed Roofs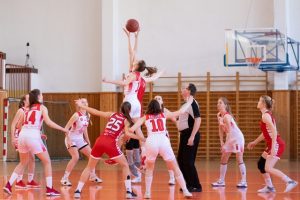 An innovative feature with basketball stadium design is the inclusion of a domed roof. You would want all those people driving from a distance to notice your stadium and keep a lookout for up and coming events to attend. Adding an aesthetic design that allows people to identify the basketball stadium from a distance is helpful. You can easily track a domed-roof basketball stadium in the city or inner town when you ask people because its architectural pattern is unique. As a modern way of enhancing a sports centre with unique design elements, domed roofs have helped to reduce the effect of snow on the main arena of a basketball court. This structural design shields spectators and players from harsh environmental condition. Apart from protection, domed roofs of basketball stadiums improve the beauty of the structure. This can either be achieved through marble or porcelain cladding, in order to protect the surface from moisture and moderate the temperature within the stadium.
Point Of Sale Terminals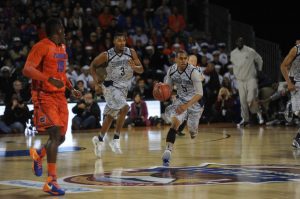 Installing points of sale terminals near the sports arena because it makes accessibility very easy, but not for alcohol sales. Most basketball fans are often anxious to see their favourite teams win, and they expend energy cheering these players. So, they might need light refreshments during the game to energize them. The modern stadium should have a retail shop for drinks and snacks, but no alcohol. Alcohol intoxication triggers violence when people panic, and it might lead to violence. There are cases of violence conducts between fans, players, and rival fans because of alcohol intoxication. However, a modern basketball stadium shouldn't allow alcohol to be sold within the premises. Limit the sale of spirit, wine, or beer sale at games. This action will reduce the risk of basketball fans using beer bottles to fight during confrontations. For example, there's a reason why the stadium venue is often hired in Melbourne in order to host huge events such as the Australian Footie league, Big bash league, Australian Open, Grand Prix, Melbourne Cup etc. This is due to their sheer diligence of knowing exactly how to create a balance between endorsing the sport and taking care of their spectators perfectly. All the provisions are available to the general public in the most convenient and safest manner possible.